Elf
 is a race in 
Munchkin
that appears in original
Munchkin
and some
Munchkin
Expansions.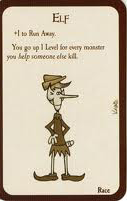 Advantages
Edit
Elves can run very fast, so they have +1 to run away. They also earn a level for a monster they help someone else kill.
Disadvantages
Edit
Elves like clean things, so disgusting monsters do more damage against them.
Elf items
Edit
The Rapier of Unfairness is an example of an elf-only item. There is also an item called the Fake Ears that lets humans use elf-only items.
Ad blocker interference detected!
Wikia is a free-to-use site that makes money from advertising. We have a modified experience for viewers using ad blockers

Wikia is not accessible if you've made further modifications. Remove the custom ad blocker rule(s) and the page will load as expected.